Posted by Angela - Naturally Safe Cosmetics on 4th Sep 2018
When it comes to our bodies, we often neglect to take care of the condition of our skin. Of course, we wash frequently and maybe even moisturise occasionally but, if you want your skin to appear at its best, regular exfoliation is an absolute must.
The reasons you should be exfoliating with a natural body scrub include:
1. Removal of dead skin cells
The problem with dead surface skin cells is that they can make your skin look dry, flaky, rough and generally dull. Our skin naturally sheds (renews) itself. But this process, which takes only a couple of weeks for babies and 3-4 weeks for teenagers, extends to a longer time-frame the older we get. Once you hit adulthood, it is generally around once a month but, after 50, it can take up to 40 days and even longer. Exfoliating with a natural scrub soap like The Australian Soap Company Activated Charcoal Soap is a great way to get rid of dead surface skin and the reveal the new skin beneath. This soap has a simple formula comprised of just saponified olive oil and activated coconut shell charcoal and can also assist those with skin prone to breakouts and blackheads.
2. Improved skin texture and smoothness
Your skin's texture is basically the condition of your skin's surface. To have good skin texture is to have skin that is smooth, soft, hydrated and supple. Regular exfoliation with a natural body polish like the Mukti Bioactive Body Polish can be really beneficial in achieving healthy, fresh, smooth skin that's glowing and younger looking. It can also improve the appearance of cellulite and stretch marks.
3. Enhanced absorption of moisturiser
Removing dead, flaky surface skin with a natural salt scub like the Miessence Darling Salt Glow Body Scrub can improve your skin's absorption of moisturisers such as body lotions and oils. This particular scrub has the added benefit of helping our environment in terms of salinity management as it utilises inland salt taken from the Murray-Darling Basin.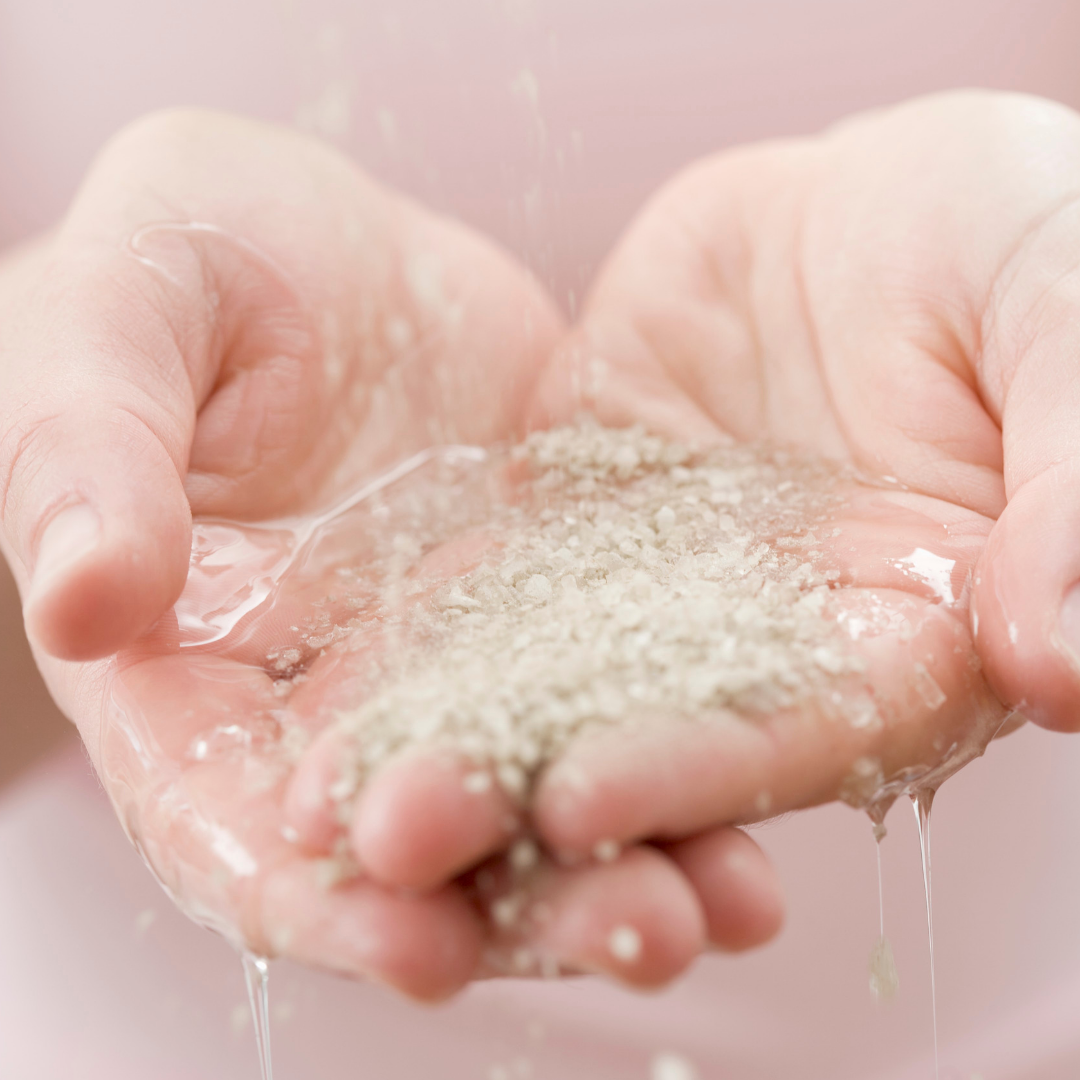 Image source: Canva
4. Increased blood circulation and detoxification
Giving your skin a good scrub increases blood flow to the skin's surface which stimulates blood circulation and is said to help drain your lymph nodes.
5. Release and prevent ingrown hairs
Regular use of body scrubs can free up those pesky ingrown hairs and also prevent future ingrown hairs from forming by allowing hairs to break through the skin.
6. Lighten areas of pigmentation & dark spots
Pigmentation can arise as a result of ageing and hormonal changes, such as those that occur during pregnancy. Exfoliation may assist in helping to reduce the appearance of pigmented skin and also age spots.
7. Improved self-tanning results
Exfoliation is arguably the most important step in your self-tanning routine. If you apply your self-tanner to dead, flaky skin, your tan may be patchy and will not last as long because that dry skin will very soon shed itself. You'll want to apply your organic tanning lotion to smooth, fresh, supple skin for longer lasting benefits. The Eco By Sonya Certified Organic Pink Himalayan Salt Scrub is a multi award-winning body scrub made with sea salt, coconut oil and refreshing grapefruit, lemongrass and peppermint essential oils. It can be used on wet or dry skin.
8. Fake tan removal
In addition to preparing your skin for the application of your favourite self-tanner, body scrubs are an easy and convenient way to remove your natural self-tan if it's become patchy and reached the end of its life. The Eco Tan Tan Remover Glove is ideal for this purpose.
So, what are you waiting for? Getting scrubbing and enjoy the benefits of beautifully smooth, healthy skin - today!.
Disclaimer:
Neither the author nor Naturally Safe Cosmetics are health professionals. Any information or advice in this article is purely the author's personal opinion, derived from the author's own research, and of a general nature only. Nothing in this article is intended to diagnose, treat, cure or prevent any disease. For medical advice regarding your own personal circumstances, we recommend you contact your GP or other healthcare professional.