Posted by Angela - Naturally Safe Cosmetics on 14th Sep 2017
I was recently offered a free product from a supplier – a shower gel to be exact. This shower gel is not a product we stock at Naturally Safe Cosmetics and not connected to the brand or products we do purchase from this particular supplier. I didn't know the brand or which ingredients were in the gel but, I thought, why not? Who doesn't like a fresh scented shower gel, especially when it's free!
So, anyway, a few days later the shower gel arrived along with the products we had ordered for our store. Of course, the first thing I did when I saw the shower gel was to turn it over and read the ingredients . . .
OMG!!! Talk about a chemical cocktail! I did not expect to get a product like this from a supplier distributing other really awesome products. I was very surprised indeed.
So, what is in the shower gel? A complete list can be seen in the image attached to this article. It's probably fairly typical of your average supermarket shower gel, so I thought I'd use this blog to highlight a few of the unsavoury ingredients and explain exactly why they are of concern. I'm not going to go through the whole list, as that would make this article too long, but let's break down a few: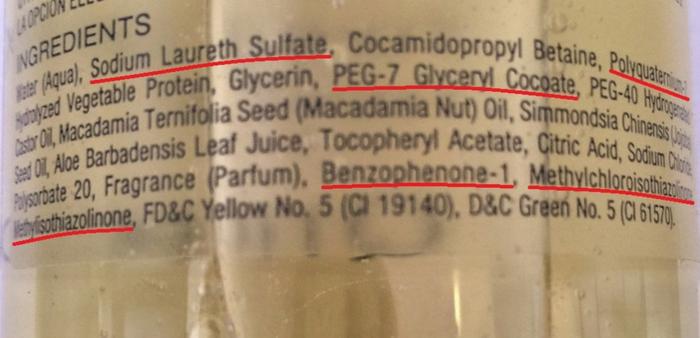 Sodium Laureth Sulfate (SLES)
SLS is derived from ethoxylated lauryl alcohol and used as a surfactant (cleansing and emulsifying agent). This ingredient is associated with irritation (skin, eyes, lungs) and there are also concerns regarding organ system toxicity and possible contamination with potentially toxic manufacturing impurities like ethylene oxide and 1,4 dioxane (known human carcinogens).
Polyquaternium-7
This is a synthetic polymer based on quaternary ammonium compounds and is film-forming. There are organ toxicity concerns, as well as contamination concerns with acrylamide (another possible human carcinogen).
PEG-7 Glyceryl Cocoate
This is a synthetic polymer based on PEG (Polyethylene Glycol) which means it can contain potentially toxic manufacturing impurities like 1,4 dioxane (see above). There are also organ toxicity concerns.
Benzophenone-1
This a benzene-based UV absorber, which makes me wonder: why the heck it is in a shower gel? There is strong evidence that this ingredient is a skin toxicant or allergen and also concerns that it is a human endocrine (hormonal) disruptor.
Methylchloroisothiazolinone (MCI)
This is a widely used preservative associated with irritation and allergic reactions. Recent studies have revealed that the number of people allergic to this ingredient is on the rise. Some manufacturers switched to this product when parabens became unpopular, even some of the more 'natural' brands. I avoid it like the plague.
Methylisothiazolinone (MI)
Similar to MCI, this is another widely used preservative associated with allergic reactions. In addition, new studies suggest that it may also be a neurotoxin. Like MCI above, the incidence of allergic reactions to this ingredient increasing. In fact, its importance as an emerging allergen was reflected in the fact that the American Contact Dermatitis Society named it "Contact Allergen of the Year" for 2013.
So, what's my recommendation when it comes to products like shower gels, body washes, hand washes and the like? The same as every other personal care or cosmetic product. Read the ingredients labels and familiarise yourself with potentially harmful ingredients.
As for the free shower gel I received? Well, that's going straight into the garbage bin.