Posted by Angela - Naturally Safe Cosmetics on 6th Jun 2016
We get it. It can be overwhelming to read all of the information out there about the pitfalls of using supermarket-brand hair products, and why you should be making the switch to organic, chemical-free products to ensure lush locks that stand the test of time.
It can be overwhelming both processing through this information and trying to choose the best options for your own hair, but also a change for the hip pocket. Supermarket, everyday brands may sometimes be less expensive - but when you know just what their products are doing to your hair, the reason they are so cheap is obvious.
Cheaper brands that you can buy just about anywhere are loaded with chemicals - in particular sodium laureth/lauryl sulfate (commonly known as SLS). In short, SLS chemicals are a common detergent (yes, you heard correctly) that is found in most budget beauty products - including soaps, haircare and toothpaste. This harsh chemical is what makes your hair products, such as shampoo, give the "lathering" effect, which fools consumers into believing the product is working some kind of magic.
In reality, sulfates are actually doing serious damage to your hair in the long-term. They strip your hair of the essential natural oils it needs to thrive - leaving your locks dry, frizzy, lacking shine and riddled with split ends. The precious locks you've spent an eternity trying to grow out and keep healthy are actually being ruined by the one product you use day-in and day-out. SLS chemicals are also a proven irritant, which is particularly nasty for those suffering from skin and scalp conditions.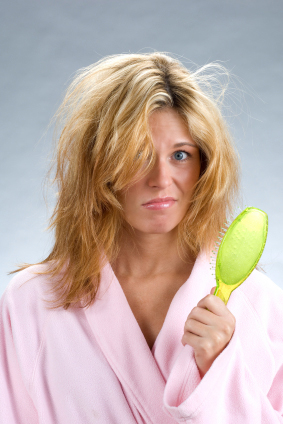 By switching to organic shampoos and conditioners, the improvement in your hair condition is evident in a matter of weeks. Your hair, finally free of these harsh oil-stripping chemicals, will be noticeably cleaner, softer, shinier, untangled - and will grow quicker as well! You'll need less haircuts due to less split ends ravaging your mane. You'll also notice a sizeable difference in the condition of your scalp if you suffer from conditions such as dandruff, eczema or psoriasis - or even just everyday dry skin.
Acure Argan Repairing Shampoo is the best first step you can take towards eliminating harmful chemicals from your everyday haircare routine and making the change to chemical-free, organic products. Jam-packed with the miracle that is Argan Oil, as well as an injection of Pumpkin Seed Oil, which is full of important fatty acids and Omega 3, you'll love this new addition to your shower. Its conditioner counterpart is just as impressive. Our range of natural shampoos and conditioners covers all hair types - you can check it out here.
As it's not just cheap shampoos and conditioners in your shower that are destroying your hair, it's important to turn to your haircare cabinet and start making the change to the hair products stored in there too. The best place to start? If you can't go a day without your beloved hairspray, then Andalou Naturals Sunflower & Citrus Hair Spray is a must. With the medium-hold you are accustomed to with your regular products - but completely organic - the apple and grape stem cells, antioxidants and organic aloe vera in this handy bottle all combine to give your hair the burst of vitality it so needs after years of being held back from its full potential.
Making the change to organic haircare products can be a tricky task, but with our hints and tips your hair will be shining and lush in no time.