Posted by Angela - Naturally Safe Cosmetics on 9th Aug 2016
For generations, women's hair and body products have continued to evolve, with more and more brands launching daily, designed to entice avid body product fans. Women are able to pick up any number of cleansers, moisturisers, exfoliators, deodorants, shampoos and conditioners - while men have been largely left behind.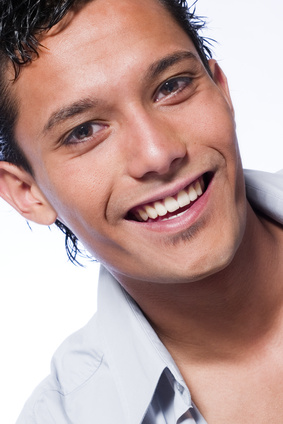 That is until recent years, when men's-only products have experienced a boom like they've never seen before.
It's no longer only women who are reaping the benefits of a good skin and haircare routine, and with big brands popping up and spruiking their new men's ranges all over the place, it's easy to get carried away with attractive advertising and not think about what makes up these often-harmful products. Most men's items on the shelves, just like women's products, are loaded with nasty chemicals that are masked by irresistible scents and alluring packaging.
Thankfully, Naturally Safe is now proud to announce we are stocked up with the brilliant Sanctum men's range of products for the special man in your life.
The brand, already a favourite amongst organic and natural skincare enthusiasts, has gone gangbusters with their 100% safe baby product range, and now their men's range is successfully tackling the booming men's 'beauty market'.
Some men can be a little hopeless when it comes to buying items for themselves, so they may struggle with choosing some quality skin and hair products. The products in the Sanctum range make a great gift idea for the man in your life - whether it's for your partner, father, son or brother - and their sleek and stylish neutrally coloured packaging makes them a sophisticated addition to the shower.
Why not start your man with a hard-working, organic daily scrub and throw in a nourishing moisturiser. Comprised of beautiful witch hazel and oak bark extract and with a hint of sandalwood oil, your special man will be singing Sanctum's praises and will be in disbelief they hadn't paid attention to their skincare routine before.
Got a hubby or a son who plays sport, or has a job that gets them hot and sweaty? Opt for the Sanctum Men's Organic Deodorant. The benefits of a natural deodorant are vast. Unlike their chemically-laden counterparts in stores, the Sanctum range is both zinc and aluminium free and instead relies on natural deodorising agents from nature to limit the production of moisture on the skin's surface and erase nasty body odour. It's good to know that their skin will no longer be absorbing the chemicals from their prior brand which they probably didn't even realise could be so harmful.
Lastly, the Sanctum Men's Shampoo & Wash is the ideal mini-gift for a man with no time to waste in the shower. This multi-use cleanser doubles as a shampoo and body wash, making it sheer perfection for the "wash-and-go" types. It's all also 100% naturally derived, making it a guilt-free essential.
Want the best for the man in your life? Stock up on the Sanctum Men's range, now available at Naturally Safe.