Posted by Angela - Naturally Safe Cosmetics on 3rd Apr 2017
Introduction to the term 'organic'
In Australia, the word 'organic' is not regulated so manufacturers can use the word on their product packaging without government scrutinization. The only way for you and I to be completely certain that a product is 'organic' is if it is certified.
Of course, we acknowledge that there are ethical brands around with great products formulated with only natural and organic ingredients - sometimes even certified organic ingredients - but their products are not certified organic for various reasons. However, if you are looking for a guarantee when it comes to organic products, then the Certified Organic logo is the way to go.
Organic certification involves auditing an operation's methods to ensure that they comply with the guidelines of organic production. There are quite a few organic certifications used throughout the world. In this article, we'll give you a general break-down of some of the certifications most commonly found on beauty, cosmetic and personal care products, without going into too much detail - because there is a lot of it!
Here we go:
Australian Certified Organic (ACO)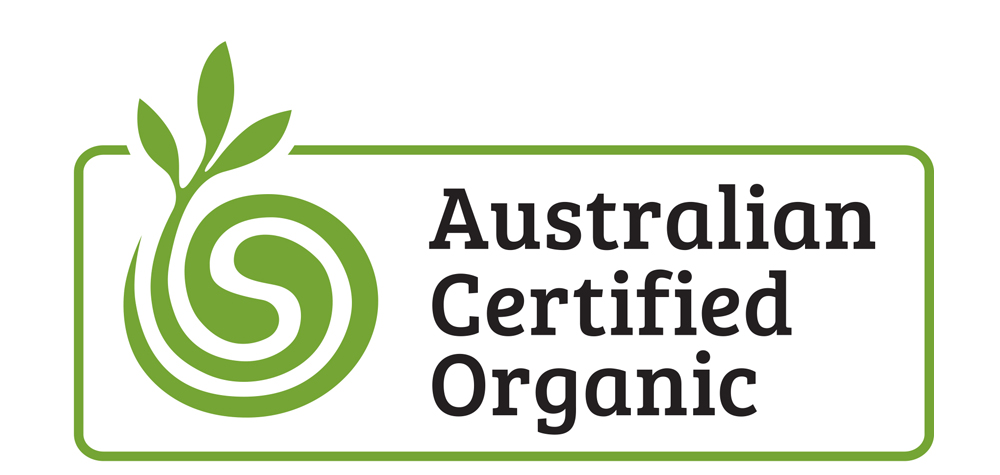 The majority of organic products sold in Australia carry the ACO BUD logo. When you see the ACO logo on a product, you can rest assured that it has met stringent certification checks. In fact, the ACO standard is one of the most respected and rigorous standards in the world for organic production. ACO is approved and accredited to act as a Certifier in Australia by the Australian Quarantine and Inspection Service as compliant to the National Standard for Organic and Bio-Dynamic Produce. Standards setting follows a highly transparent process with the industry's key stakeholders providing input via Australian Organic Advisory Groups. These standards are upheld by rigorous auditing of operations and a third party report reviewing process. This process itself is audited by government departments and authorities worldwide for ACO to maintain its accreditation as an international certifier. The ACO BUD logo is your guarantee of organic integrity. Every step of the process from 'paddock to plate' must be audited according to the Organic Standard to be able to market a product using the sought-after organic BUD logo. Australian Certified Organic is the first Asia-Pacific based certifier accredited under the COSMetics Organic and natural Standard (COSMOS) - see below - as an approved certifier for Organic and Natural cosmetics as well as cosmetics raw materials, following an accreditation process through the International Organic Accreditation Service (IOAS).
Organic Food Chain (OFC)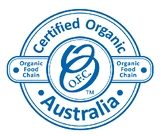 The OFC provides organic certification for producers of grain, cattle or sheep; processors of food or skincare; and for distributors or wholesalers. Like ACO, they certify to the National Standard for Organic and Bio-Dynamic Produce. They are accredited with the Australian Quarantine and Inspection Service as an Organic Certification Body as well as the USDA (United States Department of Agriculture) National Organic Program for the USA as an organic accreditation agency. They are also registered with the European Union as an Organic Certifying Body and their logo is highly regarded in the organic industry. Products must contain a minimum amount of organic ingredients and all ingredients must be traceable back to their source. An OFC logo assures the integrity and transparency of the product on which is appears.
Soil Association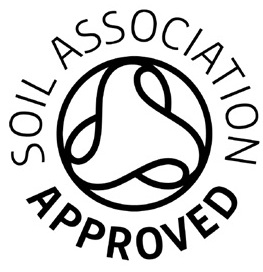 Formed in 1946, the Soil Association is the UK's leading membership charity campaigning for healthy, humane and sustainable food, farming and land use. Their focus has always been to create a better world – one where we farm responsibly, eat healthily and live in balance with the environment – something which is more important than ever as the world's resources come under increasing pressure by intensive food and farming systems. For products with the Soil Association logo, farmers choose natural pest management systems, resulting in products that are better for you and the environment.
BDIH Certified Natural Cosmetics
Located in Germany, the Bundesverband Deutscher Industrie-und Handelsunternehmen (try saying that one!) is basically the Federal Association of German Industry and Trade - a non-profit Association of industries and trading firms representing pharmaceuticals, health care products, food supplements and personal hygiene products. In 1996, working together with leading natural cosmetics producers, the BDIH developed comprehensive guidelines for certified natural cosmetics, keeping in mind the expectations of consumers. On the basis of these guidelines, an independent institute has tested more than 2000 products for their contents and production methods. The makers of products marked with the BDIH 'Certified Natural Cosmetics' seal use natural raw materials such as plant oils, fats and waxes, herbal extracts and essential oils and aromatic materials from controlled biological cultivation or controlled biological wild collection. In addition to the careful selection of raw materials, the ecological impact of each product plays an import role.
Ecocert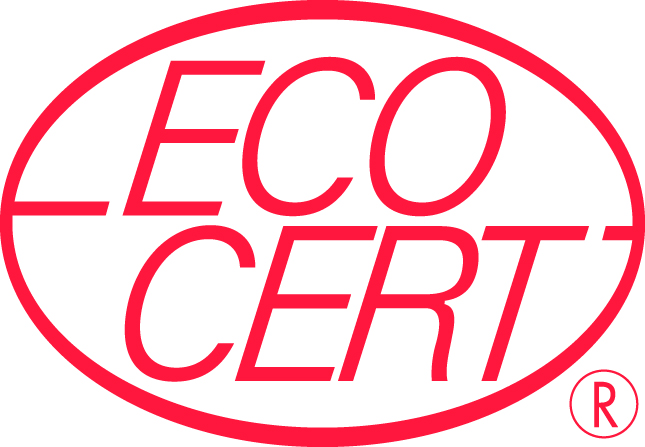 Ecocert was the very first certification body to develop standards for 'natural and organic' cosmetics. To ensure an environmentally friendly cosmetic product, the Ecocert standard requires the use of ingredients derived from renewable resources, manufactured by environmentally friendly processes. There must be no GMOs, parabens, phenoxyethanol, nanoparticles, silicon, polyethylene glycol, synthetic perfumes & dyes or animal-derived ingredients (unless naturally produced by them, e.g. milk, honey, etc.). Packaging must be biodegradable or recyclable. Ecocert has become the leader in organic certification in France. At each step, Ecocert controls provide a guarantee of traceability and transparency that meet the expectations of consumers and users. Although based in Europe, Ecocert conducts inspections in over 80 countries, making it one of the largest organic certification organisations in the world. Ecocert created and introduced the 'natural and organic cosmetics' standard in 2003. Cosmetics must meet stringent criteria to display the Ecocert logo.
NaTrue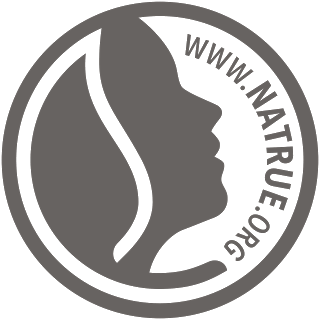 The NaTrue label sets a high standard when it comes to defining the 'naturalness' of cosmetic products. It helps consumers identify Natural and Organic Cosmetics truly worthy of that name. For products with a NaTrue label, you can be sure that the product is not only compliant with a strict standard but also that a reliable certification process has been carried out by independent certification bodies which are themselves subjected to a rigorous accreditation process with NaTrue's partner IOAS (a non-profit organisation dedicated to the integrity of ecolabel claims in the field of organic and sustainable agriculture, environmental management, social justice and fair trade).
United States Department of Agriculture (USDA)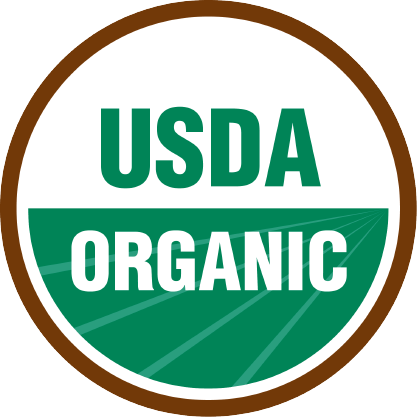 USDA Organic products have strict production and labelling requirements. Organic products must be produced without certain excluded methods, e.g. genetic engineering, ionizing radiation and sewage sludge. They must be produced using only allowed substances and overseen by a USDA National Organic Program-authorized certifying agent, following all USDA organic regulations.
COSMetics Organic and natural Standard (COSMOS)

The COSMOS standard is the result of a harmonization effort conducted by five leading European certification bodies: BDIH (Germany), Cosmebio (France), Ecocert (France), ICEA (Italy) and Soil Association (UK) with the aim to create a global Organic and Natural Cosmetics Standard. Since its constitution in 2010, the standard has been placed in the hands of COSMOS-standard AISBL, an international non-profit Association. Their ultimate objective is to safeguard, in the area of cosmetics, the welfare of the environment and of people. The COSMOS standard sets out innovative, challenging and progressive criteria for organic and natural cosmetics that consumers can trust, and that are clear for the industry and good for the environment. COSMOS certified products are produced to the highest standards for organic and natural cosmetics, and are safe, effective and good to use. The standard divides the type of ingredients used in cosmetic products into five categories and specifies the requirements for each. Companies must also ensure their packaging is minimised and is environmentally friendly and they must have an environmental and waste management plan for their factories. Finally, all the products produced to these standards have to be certified by an independently authorised certification body. This makes sure that the certification body is competent and professional. They will check everything necessary about the product to verify it complies with the standard and is labelled accurately and clearly, so you can have confidence in what you are buying. You will find two types of COSMOS labels: 'COSMOS ORGANIC' on products containing minimum percentages of organic ingredients and 'COSMOS NATURAL' on those that comply with the Standard in all other respects but do not have the minimum organic percentages. Like ACO, more certification bodies are seeking accreditation under the COSMOS global standard, and you will often see the COSMOS logo used in conjunction with the logos of one of the other certifying bodies mentioned above. Combined, the founding members of COSMOS represent over 1,500 certified organic cosmetic brands and more than 25,000 products sold in over 40 countries world-wide. When the standard takes full effect, COSMOS will become the leading cosmetics certification standard for cosmetics products and raw materials.