Posted by Angela - Naturally Safe Cosmetics on 23rd May 2018
With Summer leaving us behind and winter taking up residence, breezy winds, dry air and chilly temperatures can wreak havoc on our skin. Winter's here to stay for a while so now is the time to take extra care of your skin and embark on some naturally safe skincare routines (see what we did there?). Conquer those chapped lips, dry skin and dull complexion with these natural tips.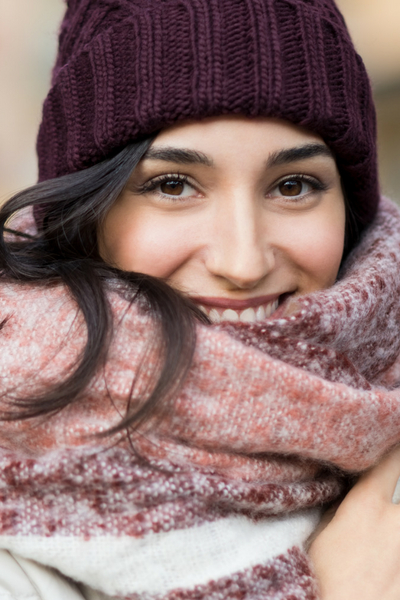 Image source: Canva
Shorten your shower
As tempting as it is to take a long steamy shower in Winter, hot baths and showers can leave your skin parched. Choose lukewarm water over scalding to prevent stripping the natural oils in your body. Limit showers to five minutes and use a gentle cleanser like the award-winning Eco By Sonya Coconut & Mint Body Wash. With soothing aloe vera and hydrating coconut oil, this organic body wash is sulphate, paraben and cruelty-free – and it will cleanse your skin without drying it out. Then seal in the moisture with Biologika Veggie Cream, enriched with oils and abundant in antioxidants, nutrients, omega-3 and 6 fatty acids and vitamins. Apply this organic moisturiser liberally straight after your shower or bath while your skin is still damp.
Exfoliate
As temperatures take a downward slope, so does the rate of your cell turnover which is a big hindrance for radiant skin. Moisture can't penetrate if dead cells are in abundance. A smart way to reacquire that glowing skin? Exfoliate! For the face, Emma Organics Cleansing Milk & Exfoliant doubles as both a fragrance-free cleanser and organic facial scrub all-in-one. The fine pumice powder will leave your complexion clean, hydrated and smooth. Its gentle exfoliating properties will lift away impurities and make-up whilst buffing away dead skin cells. Follow with your favourite organic moisturiser to feel that silky difference. For the body, you can't go past the Giovanni Hot Chocolate Sugar Scrub for an indulgent exfoliation experience that removes dead skin cells, hydrates with essential oils and warms your senses with a wonderful chocolatey fragrance. Who doesn't like hot chocolate in winter?
Be the boss of your gloss
It is a truth universally acknowledged that chapped lips are never sexy. So protect your pout when you're out and about with Eco Lips Mongo Kiss Blood Orange Lip Balm. Not only does this organic lip balm have a delicious fruity flavour, but it also contains antioxidant rich Vitamin E, as well as nutrients like calcium, copper and zinc, to leave your lips nourished and moisturised. For evenings out, step it up a notch with a glamorous coloured organic lip gloss like the Inika Certified Organic Lip Glaze in Watermelon.
Hydrate from the inside out
We tend to turn to hot drinks like cocoa and tea in these cold months, but don't forget that your skin needs hydrating too. A little warm water with lemon not only refreshes your palate but adds a little zest to your skin. When skin is very dry, foods or supplements containing omega-3 or omega-6 fatty acids can also help to replenish it.
Peter that heater
You walk in from howling winds and what's the first thing you want to do? Turn up the heat. Heating systems dry out the air especially in smaller rooms like your bedroom. Try setting the thermostat at a cooler but comfortable setting. Consider also investing in a humidifier to add moisture back into the air and to prevent your skin drying out.
Layer up
Many scratchy woollen fabrics can irritate dry skin. Keep rough clothing from directly touching you. Instead, layer up in soft, light, materials so that your skin can still breathe. A silky scarf is perfect for keeping out the chills. Protect your hands by moisturising with an organic hand cream like the Mukti Hand Lotion in Wild Mint & Sweet Fennel scent and try wearing a pair of soft gloves when going out in extreme conditions. Remember that even though the Summer sun won't be blazing down on you, the Winter sun can still be damaging so make sure to apply a safe sunscreen. The multi award-winning Wotnot Natural Sunscreen provides broad spectrum protection from UVA and UVB rays, is SPF30 and water resistant for up to three hours. Including a blend of vitamin E, organic aloe vera, shea butter and safflower oil, this natural sunscreen keeps your skin nourished and moisturised while protecting it from sun damage.
Night-time routine glean
Before settling down for the night, after battling a bleak day of chills and heating systems, zoom in on a night-time routine. Adopt a richer moisturiser at night to replenish your skin while you sleep. Clemence Organics Ultimate Face Cream contains botanicals designed to stimulate skin repair and renewal and is rich in essential fatty acids, antioxidants, vitamins and minerals. Post moisturiser, apply La Mav Anti Dark-Circle Eye Gel - a unique eye product designed to revive, rejuvenate and lighten the delicate skin under the eyes. Its hyaluronic acid and vitamin C formula will help reduce the appearance of puffiness and dark circles.
Here's to healthy, hydrated and glowing skin all through winter.