Posted by Angela - Naturally Safe Cosmetics on 16th Oct 2015
You don't have to be a makeup expert to achieve a professional, flawless look to your makeup.
When it comes to your face makeup, the clever use of bronzers and highlighters can make a dramatic difference to your overall appearance, and help to correct minor imperfections.
Bronzers
Bronzers have darker tones and can be used to add depth and to make certain facial features appear smaller or recede into the background. Bronzers are also great for giving your skin a sun-kissed look. Applying bronzer to the areas that the sun would naturally hit (and tan), such as the top your forehead, down the bridge of your nose and the tip of the chin, can add an instant flattering glow to your face. Although bronzer makes for a great Summer look, it's just as effective during Winter for adding colour and warmth to a pale complexion. You can also swap bronzer for your usual blush for an 'amped-up' night time look.
Bronzers are also excellent for contouring and shading, as they have the ability to create shadow in areas of your face and neck that you don't want to draw attention to, for example, a double chin.
Two of our most popular bronzers are Inika Loose Mineral Bronzer - Sunkissed, made with pure minerals, and Miessence Bronzing Dust, which is beautifully scented with organic rose essential oil.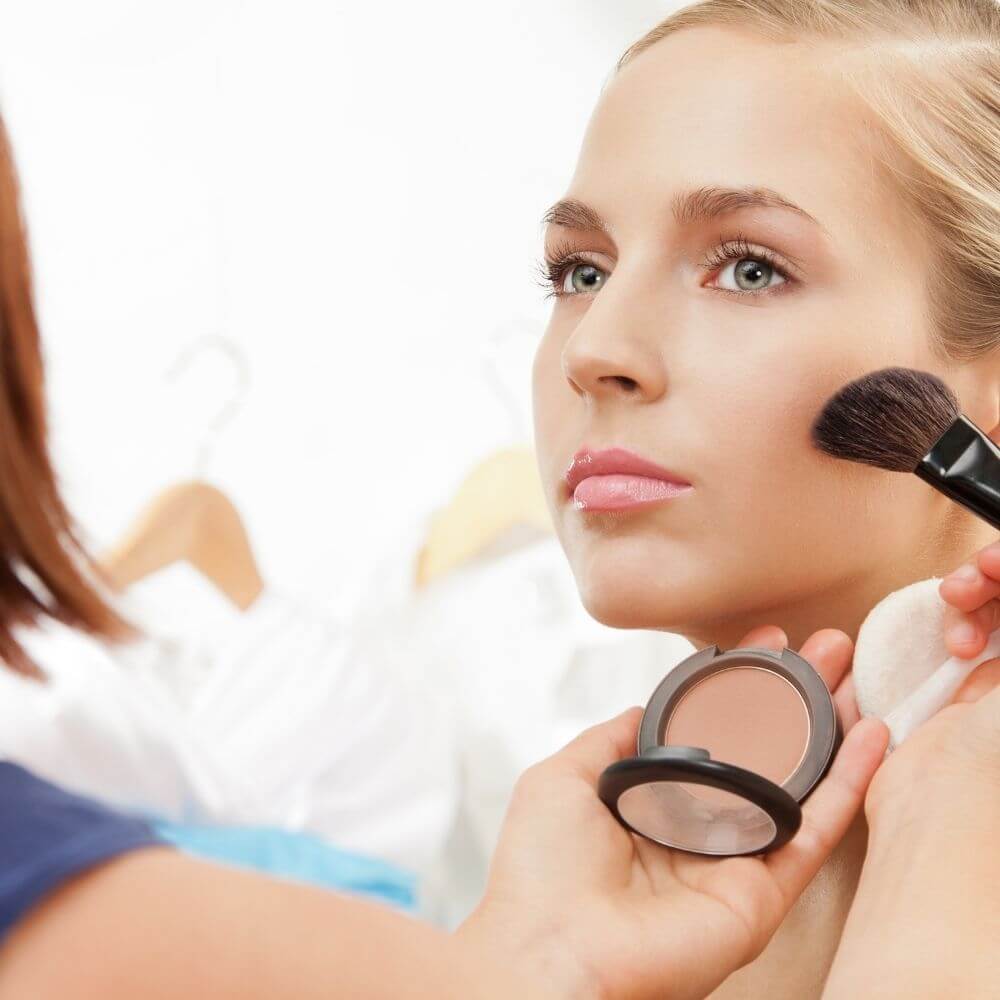 Image source: Canva
Highlighers or Illuminisors
As the name suggests, highlighters are great for 'highlighting' or accentuating areas of your face that you want noticed, such as your cheekbone or just below your brow bone in the eye area. Our favourites are Inika Baked Mineral Illuminisor and Inika Certified Organic Light Reflect Creme. Like bronzers, highlighters can also change the appearance of certain facial features.
Choosing the right bronzer shade:
Ideally, bronzers should be 2-3 shades darker than your normal skin tone. In Summer, you will naturally have a slightly darker skin tone than in Winter so keep this in mind when choosing your colour. You may find that having a couple of different shades of bronzer allows you to cater for those times of the year when your complexion colour changes.
Have a look at your colour result in both artificial and natural lighting. A good idea is to take a mirror near the window or even outside and take a peak – after all, you want to look good when you're outside too!
Application:
Take a soft bristled brush, dab it into your bronzer powder and gently tap off the excess into the lid. For really natural subtle colour, use a tissue or makeup removal pad to lightly brush off excess. As with all makeup, apply sparingly and build up gradually in layers to the desired level of coverage – you don't want to go too hard, too fast!
Naturally Safe Cosmetics' fail-safe guide to using bronzers and highlighters to correct some common areas of concern:
Broad Nose - apply bronzer to either side of your nose to create a shadow and give the appearance of a thinner nose.
Narrow Nose - apply highlighter to both sides of the bridge of the nose. You could also add a small amount of bronzer to the bridge of your nose and extend toward the tip.
Short Nose – apply highlighter in a narrow strip down the centre of your nose from the bridge to the tip to give it a lengthened appearance
Long Nose - apply bronzer to the tip and underside of your nose, extending the contouring down between and around your nostrils."
Crooked Nose - apply bronzer on the side or area that needs straightening and apply a touch of highlighter on the other side. Depending on the severity of the bend in your nose, you may be able to apply highlighter in a straight line from the bridge of your nose to the tip.
Bump on the Nose - Shade directly on the prominence of the bump, then apply highlighter on either side of the bump from the bridge to the nostrils and blend well.
Heavy Jawline - apply bronzer to each of the two angles of the jaw to break up the jaw line. Also apply highlighter in a narrow strip down the centre of the chin.
Double Chin - apply bronzer to the fullest area of the double chin, ensuring you blend in well with the surrounding makeup.
Protruding Chin - shade over the prominence of the chin with bronzer.
Receding Chin - highlight the centre of the chin with highlighter.
Give it a go!
Bronzers and highlighters are truly versatile makeup items and can also be mixed and matched with other mineral makeup products to create different shades and textures.
So, don't be afraid - have some fun experimenting with different looks today.