Posted by Angela - Naturally Safe Cosmetics on 30th Oct 2017
For many women, concealers are an important part of their makeup routine. Concealers can be used to hide dark circles, pigmentation, age spots, scars, blemishes and pimples, allowing you to achieve that much sought-after flawless look to your complexion.
So, what things should you consider when choosing the best concealer for your skin?

Consistency
The consistency of a concealer will have an impact on what you can do with it.
A creamy liquid concealer is great for camouflaging under eye shadows because it won't dry out or gravitate into any fine lines. Try Inika Certified Organic Perfection Concealer. With a light texture this liquid satin formulation glides over dark circles and stays put so you don't have to worry about it creeping into fine lines by lunch time. This formulation is also great for hiding redness or broken capillaries and generally evening out your skin tone.
Alternatively, a solid compact or crayon style concealer is great for covering blemishes or darker pigmentation, as it tends to be more opaque. Try the Miessence Mineral Concealer which you can apply with a concealer brush or the Sante Coverstick which you can simply dot on to the areas you need to hide. Either way, blend outwards until the concealer has been worked completely into the surrounding skin.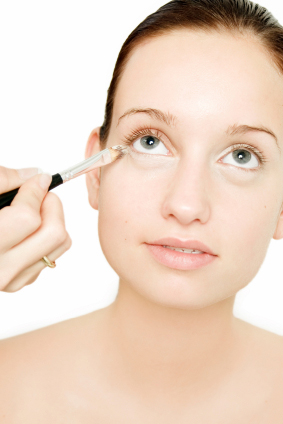 Colour
For the under eye area, ideally your concealer should be one or two shades lighter than your natural skin tone. For other parts of your face, your concealer can match the shade of your foundation, if you're wearing it. If your concealer is darker than your foundation, you'll end up with unattractive dark patches. Too light and you will over-correct and end up with visible light spots on your face.
Application
Skilful concealer application requires a light hand. Whether you apply it under or over foundation, depends on the level of coverage you want. Applying foundation over the concealer can potentially remove some of the concealer which is fine if you're happy with a lighter coverage. If you're after full or heavy coverage, then you can apply the concealer over your foundation. A small flat brush like the Inika Vegan Concealer Brush is great for applying a creamy under eye concealer, while a fine tipped brush like the Zola Cosmetics Vegan Concealer Brush works well to dot over a pimple.
Many makeup artists like to use their ring finger to apply concealer or at least to blend it. The ring finger gives a lighter touch than the pointer finger and the warmth of your skin helps melt the concealer in for a flawless cover-up job. Dot the product onto the area you intend to cover, then lightly and carefully dab the concealer in.
Perfect Pout
You've probably never considered using concealer on your lips but a light application of concealer on the lips before lipstick application helps to bind the lipstick to your lips for greater staying power.
Sun Protection
Some concealers have the added benefit of SPF, giving protection from the sun's harmful ultraviolet rays. Concealers that include titanium dioxide and/or zinc oxide will provide some sun protection.