Posted by Angela - Naturally Safe Cosmetics on 10th Dec 2019
In recent years, the popularity of shampoo bars has increased steadily, particularly amongst those who are conscious of the effects of the products they use on a daily basis, both on their bodies and the environment. Shampoo bars - also referred to as 'solid shampoos' - look like regular soap bars and feature a number of benefits over their bottled shampoo counterparts. In this article, I take a look at those benefits and provide you with my top 6 reasons to make the switch to a shampoo bar:
1. Healthy hair
Most natural shampoo bars are made with a blend of moisturising and nourishing oils like Coconut, Almond, Jojoba and Argan Oils, as well as butters like Shea Butter. These oils will leave your hair soft and silky. Natural shampoo bars are also scented with natural essential oils rather than the synthetic fragrances often found in commercial brand shampoos. These natural ingredients won't damage your hair or strip it of its natural oils. Many shampoo bars contain essential oils known for their beneficial effects on both hair and scalp, e.g. Tea Tree Oil and Lemon Oil for oily hair and scalp.
2. Long lasting & economical
Shampoo bars are generally very concentrated and long-lasting. In fact, a single shampoo bar can outlast the average bottled shampoo by 2 to 3 bottles. In addition, many people find that once their hair adapts to the shampoo bar, they don't even require a conditioner anymore, resulting in even more savings. Of course, you can also purchase a conditioner bar or try a combined shampoo and conditioner bar like the ones made by Aussie brand Shampoo With a Purpose.
3. Multi-tasking
Shampoo bars are not just for shampooing your hair. Because they're made with natural and hydrating ingredients, they are also suitable for washing your body, making them super convenient for use in the shower.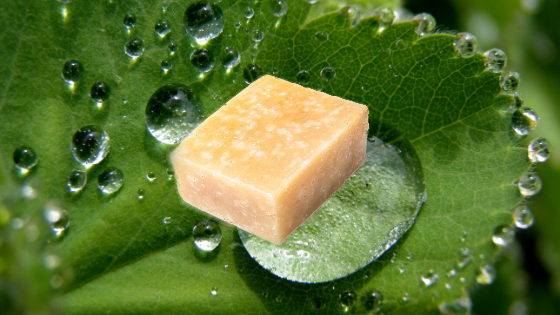 Image source: Naturally Safe Cosmetics
4. Eco-friendly
Shampoo bars often contain minimal or no packing, resulting in less waste going to land fill as compared to regular shampoo bottles which are usually packaged in plastic. When shampoo bars do come in packaging, it is usually recycled/recyclable cardboard.
In addition, shampoo bars are normally produced with natural, non-toxic ingredients, meaning less harmful chemicals going down the shower drain and ending up in our waterways.
5. Low carbon footprint
Shampoo bars look like regular soap bars. They are compact and lightweight, taking up less space in transport trucks, meaning less trips are required to transport shampoo bars than the equivalent number of liquid shampoo bottles required for the same number of washes.
6. Travel-friendly
I often find that one of the most annoying items to pack when travelling is shampoo and conditioner. If you're travelling internationally, there are restrictions on the size of liquid products you can take in your carry-on luggage. So you often end up having to buy small, travel sized bottles of shampoo which tend to be more expensive, or you need to squeeze a small amount of shampoo into those little empty travel sized bottles you buy from the $2 shop. Ughh! More plastic and more waste!
The other disadvantage when travelling is that shampoo (and conditioner) bottles often leak, creating a mess and leading to wastage of the product.
As you can see, there are some amazing benefits to be had when using a shampoo bar, both for yourself and our planet. So why not discover these benefits for yourself and make the switch today?