Posted by Angela - Naturally Safe Cosmetics on 24th Jun 2020
For many of us, the cooler temperatures and lower humidity associated with Winter can only mean one thing: a dry, flaky complexion.
It's quite common for people to change their skin care routine based on the time of year. In the warmer months, we may find, for example, that a light, fluid moisturiser does the job. During the colder months of the year, however, many people find that their skin needs something more in order to keep dry skin at bay.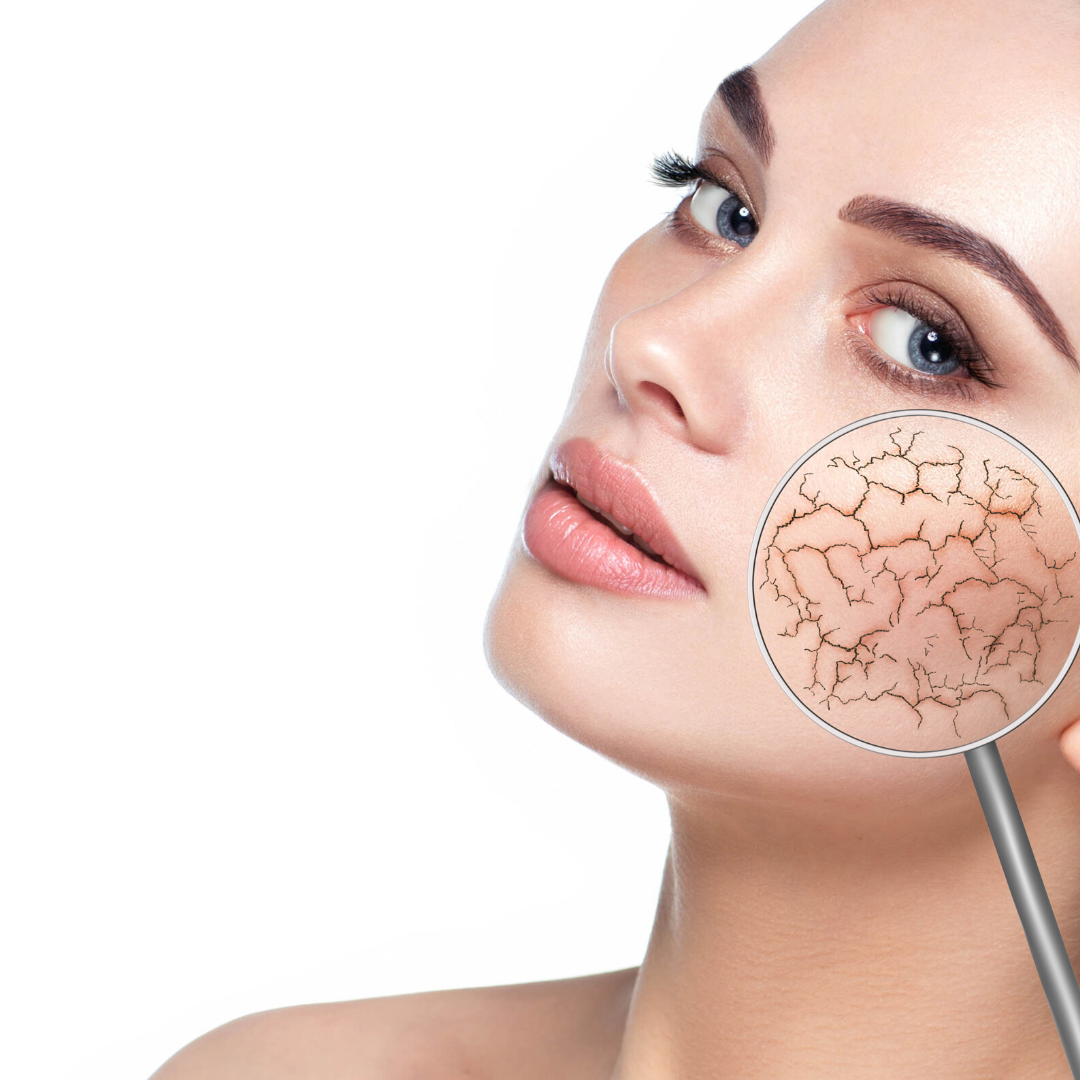 (image source: Canva)
Here are our tips for combating dry skin:
1. Use a moisturising, gentle cleanser
Choose a gentle cleanser made with hydrating ingredients. Cream cleansers are ideal for dry skin as they are generally less drying than gel or foaming cleansers.
Suggestions:
La Mav Hydra-Calm Cleansing Crème contains hydrating oils like Macadamia and Avocado Oils, as well as calming, soothing ingredients like Aloe Vera Leaf Juice and Chamomile Extract.
Mukti Hydrating Cleansing Lotion is designed to cleanse skin without stripping it of its natural oils. The inclusion of Macadamia Nut Oil, Coconut Oil, Shea Butter and Cocoa Butter ensures that skin stays hydrated, while native botanical extracts like Kakadu Plum and Mountain Pepper Leaf help skin to maintain its natural balance.
2. Incorporate a facial oil into your routine
When it comes to dry skin sometimes a moisturiser just isn't enough to keep your complexion sufficiently hydrated. Using a facial oil can dramatically improve your skin's moisture levels. You can apply the oil before or after your moisturiser or even add a few drops to the moisturiser itself.
Suggestions:
Eco By Sonya Glory Oil features a unique combination of oils from organic super seeds to instantly hydrate and plump your skin.
La Mav Intense Moisture Nightly Repair Nectar features a blend of nut oils like Macadamia and Sweet Almond, along with with Jojoba, Argan and Avocado Oils, for superior hydration benefits. It strengthens the skin's lipid barrier and provides a powerful shield that locks in moisture for long-lasting hydration.
3. Apply a hydrating moisturiser
Dry skin can really benefit from a facial moisturiser containing super hydrating ingredients like Aloe Vera, natural oils and butters. Hyaluronic Acid, an ingredient which can hold up to 1000 x its molecular weight in water, is also excellent for hydrating the skin and reducing moisture loss.
Suggestions:
La Mav Hyaluronan Daily Moisture Crème infuses the skin with Hyaluronic Acid for added hydration. Moroccan Oil and Acai Oil can also support your skin's protective lipid barrier and provide long-lasting hydration.
Clemence Organics Ultimate Face Crème also includes Hyaluronic Acid for optimum skin moisturisation, along with Shea Butter, Macadamia Oil and Coconut Oil for additional hydration benefits.
Mukti Marigold Hydrating Crème is the product I reach for when I need to 'pull out the big guns'. Formulated with oils and butters, as well as soothing Calendula and Roman Chamomile, this skin reparative treatment has a rich, balm like texture and is excellent as an overnight restorer of your skin. Despite the price tag, it's concentrated formula means you only need a little, so it lasts a while. (P.S. I call this one my 'skin saviour' each Winter. I can't recommend it highly enough for dry skin.)
4. Try a gentle exfoliator
When your skin is dry, it often appears flaky. Exfoliation can help to remove dead skin cells on the surface of your skin which can otherwise leave your skin looking dull and uneven. Be sure to choose a gentle exfoliator suited to your skin type and limit exfoliation to only once or twice per week, especially if your skin also happens to be sensitive or mature. When applying the exfoliator, be sure to use a gentle, massaging motion – don't scrub!
Suggestions:
Simple As That Exfoliant contains only 3 simple ingredients: rice powder, fine sea salt and raw cacao. These ingredients effectively and gently remove dead skin cells and smooth the skin. Simply mix with water and apply or try mixing with an oil (like coconut oil) before applying and enjoy the additional hydration benefits while you exfoliate.
La Mav Jojoba Beads & Argan Oil Exfoliating Scrub contains Jojoba micro beads (no plastic here!) to gently exfoliate your skin, together with Argan Oil for additional moisturisation.
5. Spritz with a hydrating mist toner
Aside from your morning and nightly skincare routine, you may find there are times throughout the day when your skin needs a little re-hydration. Spraying your face with a hydrating facial mist is a convenient way to instantly boost your skin's moisture levels wherever, whenever you need it – just keep the bottle in your handbag and you're 'good to go'. Mist toners are also great for setting your makeup - bonus!
Suggestions:
Miessence Rose Monsoon Hydrating Mist contains Aloe Vera Leaf Juice and Rose Essential Oil and is perfect for re-hydrating and invigorating your skin, especially if you spend your time in air-conditioned environments.
Eco By Sonya Super Fruit Hydrator includes Hyaluronic Acid, Coconut Water, Aloe Vera Leaf Juice and Shea Butter for intense hydration in a formula that's also light-weight and non-comedogenic.
Disclaimer: The author and Naturally Safe Cosmetics are not health professionals. Any information or advice in this article is of a general nature only and not intended to diagnose, treat, cure or prevent any disease. For medical advice regarding your own personal circumstances, we recommend you contact your GP or other healthcare professional.