Posted by Angela Gross - Naturally Safe Cosmetics Australia on 19th Nov 2018
When it comes to lip balms, one of the most popular choices is balms and ointments made with Paw Paw.
What is Paw Paw?
Paw Paw, also known as Papaya, is a vibrant yellow/orange coloured fruit grown in tropical climates. Sometimes confused with Mango, this sweet-tasting and nutrient-rich delight has many health benefits and is packed with antioxidants, Vitamins A and C, along with minerals like Calcium, Magnesium, Potassium and Iron. Not only is this fruit a delicious and nutritious addition to your diet, but it can also have benefits for your skin when applied topically, especially in the form of paw paw balm or ointment.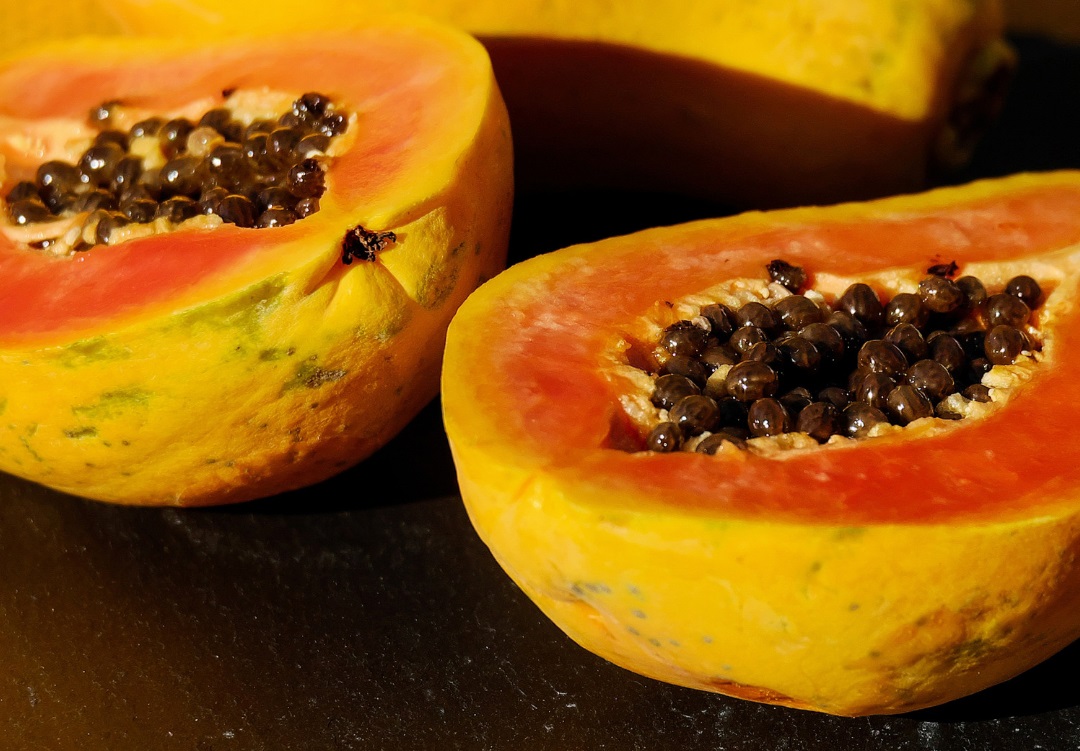 Image source: Canva
What's so special about Papaya ointment?
One of the key features of Papaya is the presence of proteolytic enzymes Papain and Chymopapain. A powerful digestive enzyme, Papain has also been found to be beneficial for the skin and has been used for many years as a topical application to assist with:
wound healing & skin repair
smoothing & tightening the skin
soothing and calming inflamed skin
preventing infection of burned areas
How can you use Paw Paw ointment?
Paw Paw ointment is truly versatile and can help with treating many minor skin ailments. Most natural Paw Paw ointments contain additional skin nurturing and hydrating ingredients, making them excellent for treating:
Lips – soothing chapped, dry lips and offering protection from wind
Wounds – minor cuts, burns, insect bites, grazes, sunburn, eczema, dermatitis, fungal infections
Dry skin – softening and smoothing common rough skin areas like elbows and knees
Hands & feet – softening for both skin and cuticles
Hair – moisturising & helping to tame frizzies and flyaways
Babies – soothing for sensitive skin and nappy rash
What about petroleum based Paw Paw balms?
There are two main reasons why I don't like petroleum based Paw Paw products:
1. The hero ingredient of Paw Paw lip balms and ointments is meant to be Papaya. Based on the listed ingredients, the amount of Papaya to be found in a particular top-selling 'Papaw Ointment' is around 4%, with the majority of the product being made up of Petroleum Jelly. This means the active ingredient forms a very small portion of the total product. In addition, Petroleum Jelly - also known as Petrolatum, has to go through a refining process to ensure that certain carcinogenic components, like Polycyclic Aromatic Hydrocarbons (PAH's), for example, are removed. We can only rely on the manufacturers to ensure the absolute purity of the finished product. With natural, petrochemical-free, Papaya lip balms and ointments, we don't need to worry about contamination with PAH's.
2. Petroleum Jelly is water-repellent and non water-soluble, creating a barrier to prevent moisture loss. This may sound great in theory, but the concern is that it may be just too occlusive, effectively suffocating the skin by keeping it from breathing freely.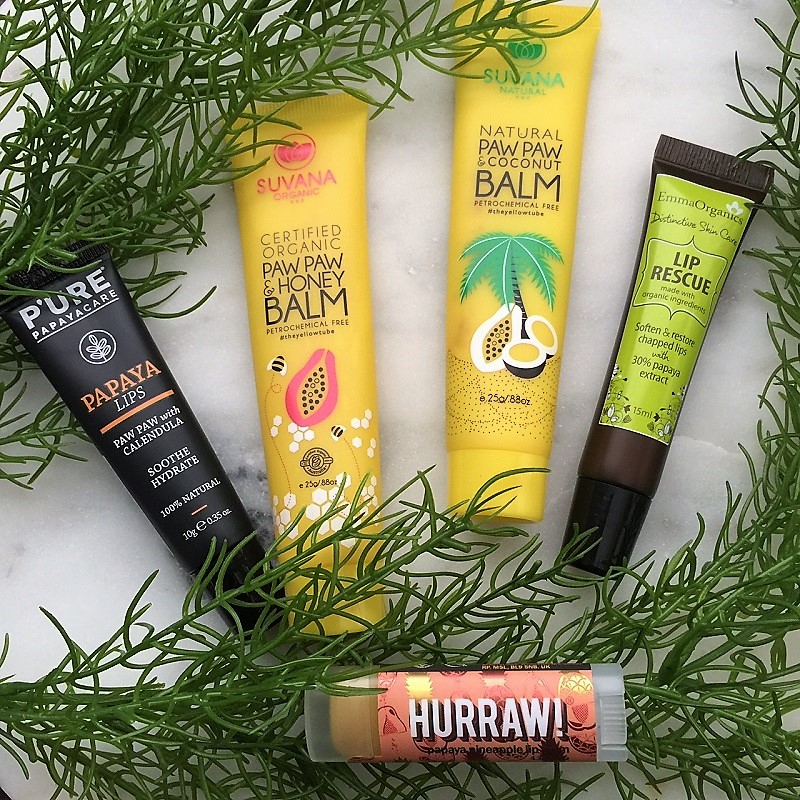 Image source: Naturally Safe Cosmetics
Naturally Safe Cosmetics' choice for the best Paw Paw balms and why we love them:
Australian fermented Papaya has been combined with Shea Butter, Macadamia Oil & Jojoba Oil to make this formulation super hydrating. Added Calendula soothes and Candelilla Wax acts as a natural barrier to help prevent moisture loss.
Suvana Certified Organic Paw Paw & Honey Balm

Combines Paw Paw extract with soothing Honey, hydrating Coconut Oil & Coconut Butter as well as Carrot Oil which is rich in Vitamin E and Vitamin C.
In addition to Papaya, organic Shea Butter and Oils of Macadamia & Coconut, this natural Paw Paw lip balm contains Tomato Seed Oil, a powerful antioxidant capable of fighting UV induced free radicals, and it's Australian Certified Organic 82%.
Hurraw! Organic Lip Balm – Papaya Pineapple

100% natural with cold-pressed Papaya Seed Oil, moisturising Safflower Seed & Coconut Oils, this one also has natural Pineapple flavour for a real tropical treat for your lips.
Disclaimer:
Neither the author, nor Naturally Safe Cosmetics, are health care professionals. Any information or advice in this article is of a general nature only and not intended to diagnose, treat, cure or prevent any disease. For medical advice regarding your own personal circumstances, we recommend you contact your GP or other health care professional.